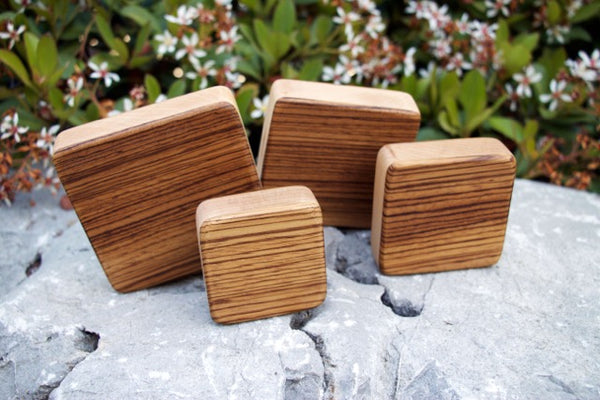 The Zebra Box Shakers Complete - with a Free Case!
This powerful set provides you with the  Zebrawood Pixie, Piccolo, Soprano and Alto Boxes for the ultimate Box Shaker experience. Each instrument has over thirty different tonal and rhythmic possibilities. Playing two shakers at once will give you at least one hundred tonal and rhythmic options.
Wood Type: Zebrawood or Zebrano
Regional Source: West Africa
Zebrawood heartwood is a light brown or cream color with dark blackish brown stripes, resembling a zebra's stripes. Zebrawood is strong, dense and stiff making it a very durable wood. It generates a brighter tone as it is a very hard wood. It is an ideal instrument if you need "snap".
This set comes with a free zippered carrying case ($15 value).