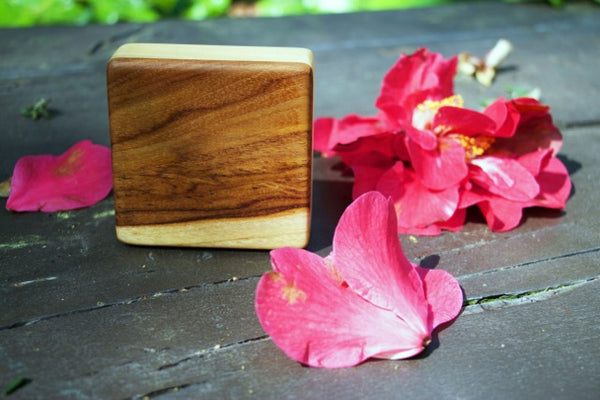 Pop Series - Chambered Piccolo Box Shaker (~3.0")
Light Touch Music shakers by Natural Acoustics Lab are handcrafted from solid Teak, one of the most durable and appealing hardwoods on the planet. Handcrafted Teak results in an unmistakable organic and warm tone. Every instrument is cut from separate Teak logs, resulting in its own unique grain pattern. The LTM Piccolo shaker is approximately three inches square and one inch in depth.

Our patented chambered design gives performers the most versatile and articulate shaker in the industry. This architecture allows for complete dynamic control, multiple articulations and versatile performance techniques. This shaker can be muted and un-muted while playing.

You are in complete control. Creatively change the shaker rhythms by varying finger, palm, hand, wrist and arm motions. You can also use tambourine, pandiero, spoon techniques to add to your shaker vocabulary. With a light weight wood mallet, the instrument becomes a compelling shaker and clave/woodblock combination. A shaker and clave/woodblock simultaneously!

LTM shakers have broad appeal to percussionists, performers, composers, educators, musical therapists, yoga instructors and sound effect artists. The instruments sound great on stage, studio and classroom, encouraging sonic exploration and rhythmic fun.

We use no laminates or plastic parts. Our handcrafted quality is brought to you at a most affordable price point. 
---